Fancy a view? Here's The Sherp's list of gorgeous boutique festivals you need to visit once in this lifetime. Feast your eyes, folks..
1. Secret Garden Party
Where: Abbots Ripton, England
When: Last weekend of July
Two words. Magical and carnival-esque. This annual independent festival for music and arts is probably the most well known and loved boutique festival that exists. It takes place in Abbots Ripton, near Huntingdon, England. The location of the festival is its USP – a Georgian farm house accompanied by its own lake, river and gorgeous landscape.  The organizers concentrate on making the festival a visual experience with floating boats, crazy entertainment and a yearly theme. Over the years (starting in 2004) Chase and Status, Django Django and Bastille are some of the bands who have featured at this festival.
(Image Courtesy : Secret Garden Party/Facebook)
(Image Courtesy : Secret Garden Party/Facebook)
2. Labyrinth ( a.k.a  Japan's best kept secret)
Where : Japan
When : September
When it comes to unique music festivals, you'd be surprised by where they pop up. Take for example, The Labyrinth Festival. Hidden away on a grassy mountainside in Niigata, Japan the event is dedicated to featuring the best and brightest techno and experimental artistes. Organised and run by American national Russ Moench, everything about Labyrinth promises to display perfection and attention to detail. Artistes and live performers are carefully picked out with its sound system (The Funktion-One) being exemplary. For Labyrinth, quality always precedes quantity, as the two-day event features one stage with a flawless line-up that will leave any techno enthusiast floored.
(Image Courtesy : Labyrinth/Facebook)

(Image Courtesy : Labyrinth/Facebook)
3. Traena
Where : Norway
When : June or July
What can we really say about this festival? Set in one of the most incredibly unique locations, off the coast of northern Norway, At Traena you will witness caves being transformed into stages, music and a the bluest and brightest skies known to man.
(Image Courtesy :Traena Festival /Facebook)
   (Image Courtesy :Traena Festival /Facebook)
4. Envision Festival
Where : Costa Rica
When : February
Presenting Envision, a festival hosted on a beach-side jungle in Costa Rica, where community, the environment and culture comes together in a beautiful balance.Envision has all the elements of a perfect experience – music, art, culture and communal living on a beach. Among the activities, apart from the music, expect to be blown away by drum circles, healing workshops, yoga, permacultures, art and even plant healing.
(Image Courtesy : Daniel Zetterstrom/Envision Festival) 
  (Image Courtesy : David Edwards/Envision Festival)
5. Festival No.6
Where : Wales, UK
When : September
Imagine a dreamland of music, arts, culture and comedy, all set in the one of the most stylish Italian-themed village. Every September, Festival No 6 returns to this beautiful village of Portmeirion in Wales to enchant and delight people of all ages. The perfect destination for backpackers and travellers, Festival No 6 has earned itself more than a few accolades for being intimate, stylish and awe-inspiring. The festival, which brings together the whole town, is also a healthy alternative to over-crowded and hedonistic EDM festivals, with its family-friendly camping areas and activities.
(Image Courtesy : Festival No.6/Facebook)
(Image Courtesy : Festival No.6/Facebook)
6. Magnetic Fields
Where : Rajasthan, India
When : December
Boutique festivals are an awesome new alternative for people disenchanted by the bigger ones, although getting a boutique festival right without exactly 'selling out' is undoubtedly a bit tricky. Set in a gorgeous Mahal in Rajasthan, this small (first time) & yet undeniably eclectic music festival captured the hearts of all who attended and were part of it. The lineup and production were delightfully unique, attendees were literally treated like Kings and Queens and the sense of community was strong. This cozy festival has set quite the bar when it comes to executing intimate boutique festivals in India.
(Images Courtesy : Magnetic Fields/Facebook)
7. Wonderfruit
Where : Pataya, Thailand
When : December
Less than a month old, Wonderfruit is already being called Thailan's version of the Secret Garden Party. Set in the Chon Buri region, Wonderfruit is a carnival of music, food, brilliant vibe, art and merriment. It's first attempt was more than we expected with a bunch of eclectic artists performing ranging in the genres of house, disco, downtempo, reggae, dub etc. Seth Troxler, Hercules & Love Affair, Fat Freddy's Drop, Nick Mulvey and Totally Enormous Extinct Dinosaurs and many more artistes where there, playing during the masquerade-y fest against the backdrop of a beautiful beach.
            (Image Courtesy : instagram.com/wonderfruitfestival) 
(Image Courtesy : wonderfruitfestival/Facebook) 
8.End Of The Road
Where: Larmer Tree Gardens, North Dorset, England
When: August – September
Hosted at the Lamer Tree Gardens in England, End of the Road is a considerably smaller festival and that is just what it's trying to create. The couple (Simon and Sofia) who started it wanted to make their own little perfect festival. Props to them for the quality of music and the intimate and warm vibe they've seemed to generate. Music that features is usually alt rock, American and folk. Sigor Ros, Belle and Sebastian, Frightened Rabbits have featured here.

               (Image Courtesy : End Of The Road/Facebook)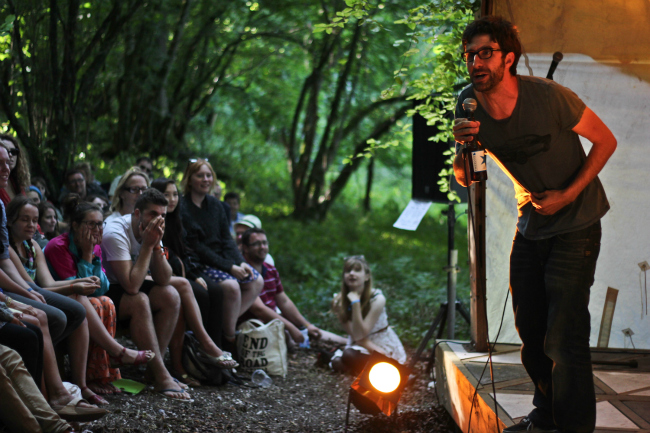 9. Bestival
Where : Isle of Wight, UK
When : September
As a festival that officially closes the UK festival season, Bestival is a 4-day boutique extravaganza known for its beautiful location, exciting music and an overall great vibe. Being the brainchild of Rob Da Bank and his wife Josie, in the course of 10 years, Bestival has grown from a 10,000 to 60,000 strong festival that features an eclectic mix of EDM, indie, soul, funk and pop.The entire event is famous for its personal touch in elaborate stage designs, festival grounds and individual events.
10. Lightning In A Bottle
Where : California, USA
When : May
LIB  takes place sometime around May at the San Antonio Recreation Area in Bradley, CA. The focus of LIB is on absolute freedom. You are on your own schedule and get to decide exactly what you want to be doing at any given time. Lightning in a Bottle describes itself as "a celebration of Art, Sustainability, Music, Performance, and Life Itself." It resembles a crossroads between spectacle and community: somewhere between the musical enormity of festivals such as Coachella or EDC and the visual art, musical taste, and sense of involvement at Burning Man.
(Images Courtesy : Lightning In A Bottle/Facebook)
11. The Riverboats Festival
Where : Australia
When : February
The Riverboats Festival, 2015, to be held in the scenic Echuca-Moama, Victoria, will feature Sarah Blasko, Dan Sultan and The Whitlams, among many other artistes. Australia is home to some mean festivals – be it the multi-city Big Day Out, the hardstyle gathering Defqon.1 or the New Year's Eve music mecca Falls Festival. Alongside these biggies, there are several smaller festivals that appear on the calendar. One such fest, The Riverboats Festival, is held by the bountiful Murray river and in a natural amphitheatre. Its laid-back, easy-going vibe, not to mention inexpensive tickets, has made it a popular destination among people looking to spend a relaxing time at a music festival.
(Images Courtesy : Riverboast Festival/Facebook)
12. Dimensions Festival
Where : Pula, Croatia
When : August
Relatively unheard of The Dimension's festival takes place in a fort in Pula, Croatia the same venue where the Outlook Festival takes place. With a venue of incomparable beauty and an impressive underground line up to boot, Dimension festival is one of those hidden beauties, you only want to tell your best friends about.
(Image Courtesys : Dimensions Festival / Facebook)
13. Transahara
Where : Sahara Desert, Morocco
When : April
'A Dunes Odyssey' is what Transahara identifies itself by. Held right in the middle of the harsh, yet undeniably beautiful Sahara Desert in Morocco. This fest usually includes an amazing yet minimal lineup of trance, techno and house in unison with art, culture. With just 1000 people at the fest, you can expect an intimate and spell binding time at this unique event.
14. Shambala
Where : UK
When : August
Shambala is a family-friendly boutique fest, where your kids can really entertain themselves at the craft area, the enchanted woods and the kids field – one of the most vibrant kids' fields on the festival circuit. Just have a look at the video to see for yourself! It's absolutely jam packed with activities and entertainment. Check  out the  creative chaos in the many art tents – make monsters, build badges, design costumes, get messy, draw dragons, and so much more – and you'll be able to take something home to remember the festival.
15. Lake Of Stars
Where : Malawi, Southern Africa
When : February
Virtually unknown to anyone out of Africa, Lake of Stars is a quaint celebration of home-grown music and DJ talent, in the small southern African country of Malawi. The festival takes place on the banks of the third largest lake in the African continent, and obviously beautiful spot to host such a lovely and intimate festival.