Multi-disciplinary artist and activist, Kiss Nuka from Mumbai, India releases her latest single "Fight" in collaboration with Lebanon-based humanitarian organisation The Great Oven and UK-based music tech platform SongBits.
Fight is an emotive singer-songwriter piece written by Kiss Nuka over a decade ago to help her cope with the repercussions of her growing awareness of the injustices she observed in the world. The song she primarily wrote to herself to help find her own voice hopes to inspire the listener to find their own, and to fight for their beliefs.
Keeping the focus on her voice and lyrics, Kiss Nuka produces and composes a track that features keys by her long-time friend, musician and producer Utkarsh Dhotekar, a sparse bassline by Abhinav Bora, and has been mixed and mastered by her brother Shikhar Yuvraj Manchanda at his studios 'The Beast India Company'.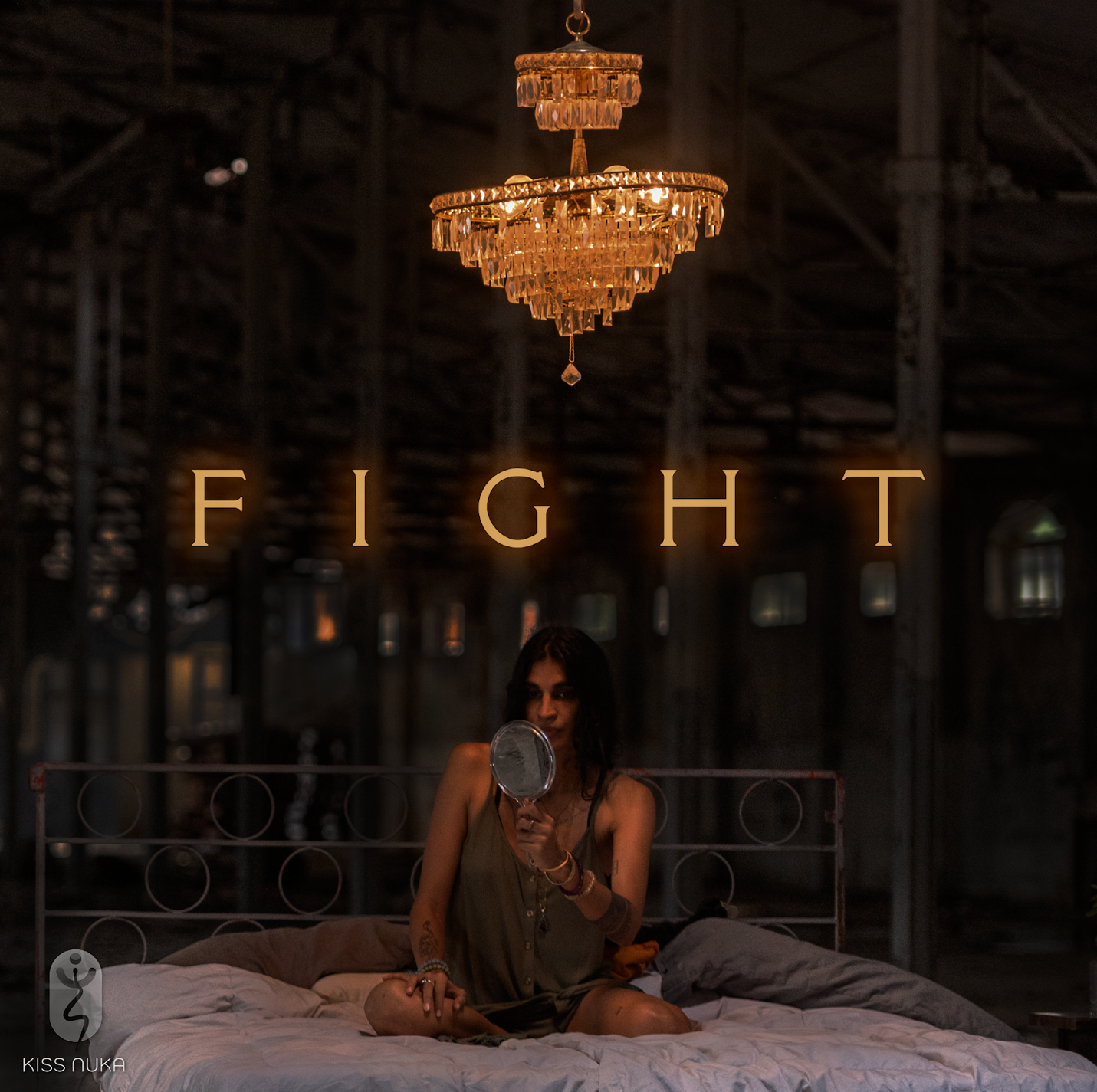 In the past, Kiss Nuka has experimented with new
music-based technology
by collaborating with media giant Dolby. Continuing in that direction, Kiss Nuka is
offering fans and collectors the opportunity to buy
'bits' of Fight, via
SongBits
, a music platform launched by
Dave Stewart (Eurythmics, SONGLAND, Hospital Club)
and
Russell and Justin Sheffield (of Trident Studios heritage)
. Fans receive a share of Fight's streaming revenues every time it is streamed. The
royalties earned
will be shared between the fans who purchase the Bits, Kiss Nuka, and The Great Oven. Kiss Nuka also was part of the
SongBits delegation
at SXSW in Austin, Texas earlier this month for the promotion of Fight. The
waiting list is open
, sign up to find out more and get involved.
The Great Oven
is an international organization that builds giant, beautifully decorated ovens and sends them to places in need – from refugee camps and war-torn communities to countries in crisis. Currently based in Lebanon and expanding to Colombia in 2023, they believe in the power of food, art and music to nourish, inspire and transform lives.
Kiss Nuka met James Thompson, the founder of
The Great Oven
when she was invited to showcase her works at their fundraising festival called The Banquet in August last year, at
The Konvent de Cal Rosal
(a late 19th-century nun's convent and textile colony that was converted into a contemporary art centre) in the Catalonia mountains, outside of Barcelona. This was also where she met Russel Sheffield and learned about SongBits.
Moved by the work of the NGO, she offered Fight to raise awareness and funds for The Great Oven. Collaborating with the artists in residence at The Konvent, she created a visual piece to promote the cause. Directed and shot by London-based Cinematographer Pep Bosch, the project was planned and shot within a week.
The cover image for the artwork has been shot by French photographer Aruallanon the set of Fight. Aruallan (Laura) was one of the artists showcasing her work at The Banquet.
James Thompson / The Great Oven adds, "In a world filled with strife a beacon of hope often emerges just in the nick of time. Kiss Nuka's anthemic, call to arms 'Fight' has inspired the women of our organisation. Trafficked women, refugees, indigenous matriarchs, and rescued migrant workers. Roused by the song and knowing that our work will be supported by the profits… completes this harmonious circle of art, food and music. This gift of solidarity from India gives us the strength we need to continue our work.
Dave Stewart (Eurythmics) / SongBits says "Once in a while, an artist grabs my attention and usually, it's because they are unique as is Kiss Nuka. Her visceral approach to music and storytelling pulls you away from the humdrum of cookie-cutter songwriting and paints an interesting picture inviting you in to be a color in her ethereal landscape."
Speaking on the new single and the association with SongBits and The Great Oven, Kiss Nuka says, "I understand now why I never found the right time to release Fight in all these years. It was meant for this moment. I am inspired by the work of The Great Oven, and SongBits has helped me contribute towards the cause by ensuring I have full control of my song and am able to share and connect with my listeners in a way that I never have before."
Raw, eclectic and phantasmic, Kiss Nuka (real name Anushka Manchanda) is a global award-winning music producer from Mumbai, India who fearlessly bends genres and creates uncensored and immersive audio-visual experiences. Manchanda's first foray into music and film started by recording playback music for Bollywood movies. She later gravitated to the more technical side of filmmaking by first editing film projects and then quickly learning directing and production.  
Manchanda's experiences in technical filmmaking would later inform her to switch to music production and visual art. Her work for music videos "Don't Be Afraid"and "Ayo Burn" was recognised at The Indian Independent Music Awards, Berlin Music Video Awards, London Music Video Awards, and was on display at The World of Music Video exhibition at Völkinger Hütte UNESCO World Heritage Site alongside work from iconic artists including Björk, Daft Punk, MassiveAttack, Pussy Riot and Young Fathers. Her free-spirited love for nature and activism translates into thought-provoking pieces of mid to hard electronic bass blended with ambient layers, electro-pop melodies, distorted vocals, and an occasional hint of roots. 
As a live performer, Kiss Nuka has brought her hypnotic, seamless and dynamically-rich live set to stages such as Mixmag LAB, Magnetic Fields Festival, Basscamp and Far Out Festival. She wrapped up her first year soundtracking the dancefloor by being featured among Mixmag's Top 15 Live Acts of 2022.